Frequently Asked Questions (FAQs) about Economic Impact Payments (EIPs)
What is the timing of the payments?
For those who filed their 2019 or 2020 taxes and received their return via direct deposit, these individuals could receive their EIP as soon as Wednesday, March 17, 2021. For those consumers who do not receive tax refunds via direct deposit, these individuals can expect to receive their next stimulus check in the mail as a paper check or prepaid card, within the next one to two weeks. Paper checks will begin mailing on Monday, March 15, 2021.
Who qualifies for a payment and how is the amount calculated?
Individuals who are eligible for the next stimulus check can receive up to $1,400 if they earn less than $75,000 per year per their 2020 tax returns (or 2019 if that is the most recent the IRS has). Couples filing jointly earning less than $150,000 per year will receive $2,800.
Eligible families will also receive $1,400 for each dependent (children, adults, college students, etc.). Those individuals with incomes higher than $75,000 will receive a prorated amount until the cut-off income of $87,000, if they have no dependents. For couples, the full benefit will apply to those earning up to $150,000 and will phase out as income approaches $160,000.
Where can I find out the status of my Economic Impact Payments?
For those that filed their 2019 or 2020 taxes and received their return via direct deposit, can visit the IRS.gov website and enter their information to learn the status of their Economic Impact Payment. There are also a variety of questions and answers on this page that may be helpful to you in navigating these EIPs.
What is the plan from the government for distributing these payments?
The United States Treasury plans to issue checks to about 160 million households in the US. Checks will be paid to recipients through ACH payments - via direct deposit, paper checks, or prepaid cards. The Treasury is going to distribute payments to the same accounts and addresses consumers received their spring payments.
Please note, you can find bank information on your checks from American Bank. Our routing number is 075901516 and your account number can be found in the middle of your checks. If you need assistance finding your account number, please call one of our full-service offices and a Customer Service Representative will be happy to assist you.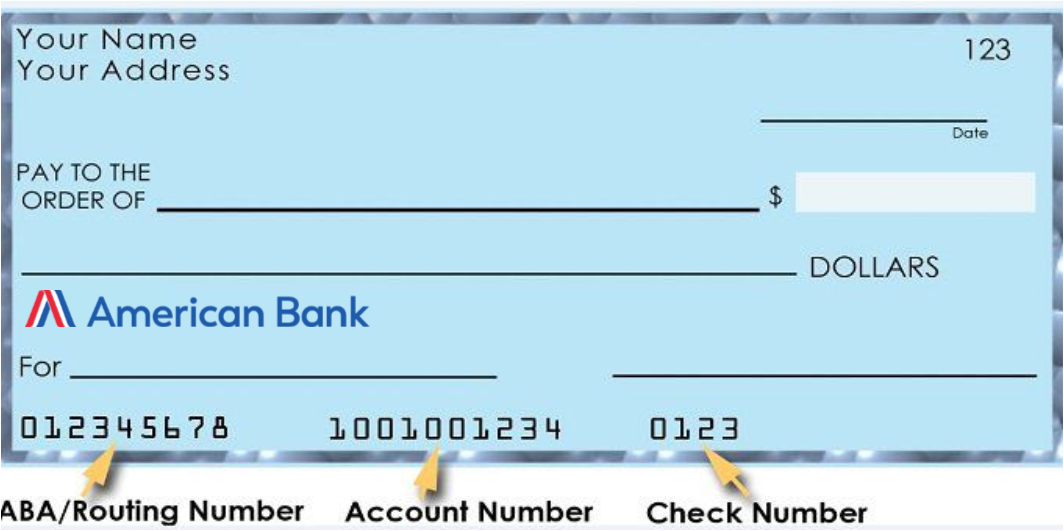 How will people who do not typically file returns (i.e., some seniors) receive their rebate payment?
Current Social Security recipients will receive EIPs based on direct deposit information held by the Social Security Administration.
Will college students be eligible to receive a payment?
Eligible taxpayers and their dependents of all ages, not just those under 17, will receive $1,400 stimulus checks. That means college students and adult dependents will be eligible for crucial aid.
Is the payment taxable?
The payment is not taxable because it is structured as an advanced, refundable credit against the taxpayer's 2021 tax liability.
The final amount of payment will be based on 2020 income and settled on the 2020 tax return. A taxpayer who ultimately qualifies for a larger payment (i.e., an individual whose income dropped from 2019 to 2020 or had a child in 2020) will be compensated with a larger refund or smaller tax liability in 2021. However, a taxpayer who ultimately qualifies for less money will not have to pay back the overpayment.
I don't have a bank account, but I want to receive my money faster; what can I do?
At American Bank, we are committed to opening accounts for our community members who currently do not have accounts to receive these stimulus checks and to use moving forward. AND, we can do this process with you over the phone, online, via secure email and/or US Postal Service - eliminating the need to see us face-to-face. For more information, visit our New Account Offer page or call us at 920.885.2700.
What can I do to prevent fraudsters from accessing my funds?
A large amount of funds will be disbursed in the coming weeks to qualifying individuals. Accordingly, there is a risk for fraud of various types. The IRS has announced various ways individuals can be on guard against fraudulent activities.
It is important to remember that American Bank or the federal government will never contact you by telephone, text or email asking for your account information. Do not provide any banking information to anyone claiming to be "registering you for your relief payment;" this is a huge red flag for fraud.
For security reasons, the IRS plans to mail letters about Economic Impact Payments to taxpayers' last known address within 15 days after the payment is made. The letter will provide information on how the payment was made and how to report any failure to receive the payment. If you are unsure you are receiving a legitimate letter, the IRS urges you to visit IRS.gov to protect yourself from fraudsters.
What should I do if I receive an unsolicited email or text - appearing to be from the IRS?
Those who receive unsolicited emails, text messages or social media contacts attempting to gather information that appear to be from either the IRS or an organization closely linked to the IRS, such as the Electronic Federal Tax Payment System (EFTPS), should forward them to phishing@irs.gov. Taxpayers are encouraged not to engage potential fraudsters onlilne or on the phone. Learn more about reporting suspected scams by going to the Report Phishing and Online Scams page on IRS.gov.
Are Economic Impact Payments subject to granishment orders?
Specific exemptions apply prohibiting granishment of economic impact funds, such as for federal garnishment orders (CARES Act), certain federal benefits payments, certain unemployment benefits (state law) and student loan debt (CARES Act).
Absent additional guidance or clarification from the US Department of Treasury, Economic Impact payments may otherwise be garnished in accordance with garnishment orders currently in force. For example, payments may be garnished to provide child support pursuant to a court order.
COVID-19 related developments continue to evolve. We recommend that you monitor the US Treasury Department's website, as well as state and local jurisdictions, in the event it issues any new information addressing garnishment protections regarding economic impact payments.
Frequently Asked Questions from Federal Deposit Insurance Corporation (FDIC) for Customers Affected by COVID-19
1. With the encouragement of social distancing, American Bank is restricting access to its facilities. However, I need go to the bank to get cash and conduct transactions. What should I do?
During this time, American Bank's drive up at our Spring Street Office and Necedah Office are available to serve all of your financial needs - from regular deposits and withdrawals, to notary services and account opening and everything in between.
Additionally, we offer a robust suite of electronic services that you can access your accounts 24/7 from your personal computer, tablet or smartphone with online or mobile banking. If you need assistance with any of these pieces, please contact a Customer Service Representative and he/she will be happy to help.
2. I'm no longer working due to COVID-19 and don't have the income to live on and meet my payments. If I miss some loan payments, how will this affect my credit? Will I be charged late fees?
At American Bank, we've committed ourselves to working with our loan clients to learn more about each person's unique situation. We understand this time is trying on our customers and some of you are seriously affected by COVID-19; whether that be with temporary business closures, slowdowns and/or sickness. The best advice we can give you, is that if you are in this situation, please contact your lender or call us at 920.885.2700 or 608.565.2296 (for our Necedah area friends). Until we work through your unique situation with you, we will not know how we may be able to be of assistance to you.
If you do not think you can pay your bills (credit cards, loan payments, etc.) on time, it is imperative that you immediately contact your creditor(s). Paying any of your debts late or not at all can result in penalties, interest charges and damage to your credit score. Your creditors should be able to work with you on a solution, but it is important to contact them as soon as possible and explain your situation.
3. I would like to send money to a relative or friend affected by COVID-19, how can I do that?
At American Bank, we offer a full suite of electronic banking services including Online Bill Pay.
With Online Bill Pay, you can enter your friend or relative's information (including mailing address) and BillPay can cut and send a check to your friend or relative for you without you needing to do anything. You initiate the 'bill payment' and BillPay produces and mails a check on your behalf. The process does rely on the US Postal Service though and can take up to five business days from when you initiate the request.
You can also send a wire transfer to your loved one(s). To .do this you will need the instructions from your loved one's bank on its instructions for recieving a wire transfer. You can contact a Customer Service Representative at 920.885.2700 or 608.565.2296 to learn what you will need to do at American Bank. You should also inquire about any fees associated with sending wire transfers and your family member / friend recieving one.
4. I'm concerned about ATM fees increasing and need cash due to COVID-19 related issues. Who do I contact regarding this concern?
At American Bank we have committed to refunding any ATM fees our customers may happen during this time frame. If you do incur an ATM fee, please contact a Customer Service Representative and we will refund those fees for you.
Additionally, American Bank is proud to be part of the MoneyPass ATM network - which gives you surcharge free access to 32,000+ ATMs nationwide.
5. I've relocated due to COVID-19, will American Bank cash checks if I'm not a customer of the bank?
It is American Bank's policy to cash checks for customers only - we do not cash third-party checks. However, we would encourage you to contact one of our friendly and knowledgeable Customer Service Representatives to learn how you can open an account with us, even during this time of social distancing and limited access to our lobbies.
We have a variety of ways for you to open an account with us, including:
If you have any questions, or need assistance, please contact us at 920.885.2700.
6. How can I protect against fraud or scams?
Main thing to remember is that you need to protect your personal and financial information - as well as that of your family members. Understand that some people may take advantage of COVID-19 by using fraudulent websites, phone calls, emails and text messages claiming to offer 'help' but may be trying to trick people into providing Social Security numbers, bank account numbers and other valuable details. Do not divulge your bank or credit card numbers or other personal information over the phone unless you initiated the conversation with the other party and you know that it is a reputable organization. American Bank will never call you and ask you for your account number or other personally identifiable information.
In addition, you should be cautious about online solicitations. Be on guard against imposters who contact you claiming to be government employees or volunteers and who ask for personal financial information or money. Reject offers to cash a check for someone in exchange for a fee, even if the bank makes the funds available to you right away, as it may turn out that the check was fraudulent - leaving you on the hook to return the funds.
7. What steps can I take to prevent identity theft and what can I do if someone steals my identity?
If you feel ID theft is a concern, or have reason to believe you may be a victim of identity theft, you may place a 'fraud alert' on your credit file by contacting the fraud department at one of the three major credit bureaus:
You only need to notify one credit bureau - that one will place will process your fraud alert and notify the other two agencies.
Placing a 'fraud alert' on your credit file can help prevent a thief from opening new accounts or making changes to your existing accounts. Be aware, however, that placing an alert on your credit file also may prevent you from opening an account unless the creditor / bank / company can contact you and positively confirm your identity and that you are applying for credit.
Additionally, people who think their personal information has been misused should contact the local police. They can contact and file a complaint with the Federal Trade Commission by calling 877-IDTHEFT or TDD at 1-866-653-4261.
As always protect your Social Security Number, bank account and credit card numbers and other personal information, especially in response to unsolicited requests from strangers. Fraudsters may try to trick you into divulging personal information, or they may steal sensitive mail or documents from homes and offices.
8. I do not have access to my personal IDs or financial records due to an unexpected quarantine caused by COVID-19. How do I rebuild my financial records?
These tips will help you begin to reestablish your financial records. You should call American Bank first to learn how we can best assist you during this time and the restricted access we have to our offices.
Replace your driver's license or state identification card.
Replace your social security card.
The Social Security Administration's card replacement process requires another form of identification, such as a driver's license. For more information, call 1-800-772-1213 (TTY 1-800-325-0778) or visit SSA.gov and click on 'Get or Replace a Social Security Card.'
Consider replacing other documents that may serve as proof of identity such, as:

passport
employer and/or school ID card
military ID card
marriage or divorce record
adoption record
health insurance card (not a Medicare card)
life insurance policy

Replace your credit cards, debit cards and checks and inquire about your safe deposit box.
Contact American Bank at 920.885.2700 and we can explain the process for replacing your cards, checks and financial records. If you kept documents in your safety deposit box at American Bank, you may want to ask us about accessing your box.

For credit cards, if you are unsure of which financial institution issued your card, contact information for the four major credit card companies are:

American Express - 1-800-528-4800 or TDD 1-800-221-9950
Discover - 1-800-DISCOVER or TDD 1-800-347-7449
MasterCard - 1-800-627-8372
Visa - 1-800-VISA-911

If you don't remember the credit cards you have, you can obtain your credit report from one (or all) of the three major credit bureaus (Equifax, Experian or TransUnion). Your credit report should list all credit cards in your name and a copy of this information may be provided to you at no cost under a new federal law. For details, contact the central service set up by the credit bureaus at 1-877-322-8828 or go to annualcreditreport.com.
9. American Bank has temporarily closed its lobby; is my money still safe?
In these difficult circumstances, most banks - like American Bank - need to limit access of the buildings to protect the health of its employees and customers. While American Bank is encouraging you to use digital channels to access your account information or visit us through a drive-up, your money is still insured by the FDIC. Deposits with an FDIC-insured bank, like American Bank, will continue to be protected up to at least $250,000.
Please see additional information regarding deposit insurance.
10. Will there be enough cash during the pandemic?
You can rest assured that The Federal Reserve System has and will continue to have sufficient resources available meet customer's currency needs.
Keep in mind the safest place for your money is inside a bank.
11. I have deposits at a bank that I think may exceed the FDIC's deposit insurance limits. What should I do?
The FDIC has a number of key deposit insurance resources to help you determine your deposit insurance coverage. A key tool for determining deposit insurance coverage is the Electronic Deposit Insurance Estimator (EDIE).
The FDIC also has a team of subject matter experts available to answer your questions. Please call 1-877-ASK -FDIC (1-877-275-3342) and ask to speak to a Deposit Insurance Subject Matter Expert between 8:30 am and 5 pm, Monday through Friday.
If you prefer, you can also contact the FDIC in writing through our FDIC Deposit Insurance Form via the FDIC Information and Support Center.
12. Who can I contact for information about banking services?
You can always reach out to American Bank at 920.885.2700 or banking@americanbankbd.com for questions specific to American Bank.
Customers with questions can contact the FDIC at 1-877-ASK-FDIC or TDD 800-925-4618 for information about accessing banking services. This hotline operates from 7 am to 7 pm, Monday through Friday and 8 am to 4 pm on Saturdays and Sundays. Please note that the FDIC does not have access to your specific bank account information. Additional information can be found online at the FDIC's COVID-19 dedicated page.
13. I can't reach anyone at American Bank by phone, what should I do?
Rest assured that American Bank is still open during the COVID-19 pandemic and stands ready to serve all of your financial needs. However, some offices have closed and those that remain open are running with limited personnel as a precaution for their health as well as yours.
We are open 8 am to 5 pm, Monday through Friday and 8 am to Noon on Saturdays at our Spring Street Office in Beaver Dam and our Office in Necedah. If you need to get ahold of someone at the branch, please call 920.885.2700 or 608.565.2296 (for our Necedah area friends) or email banking@americanbankbd.com. Please know that if you get a voicemail, we will return your call as promptly as possible - so feel free to leave a message or call us back, whatever your preference may be - and we will get back to you as soon as possible; your business is very important to us.
We know these times can be uncertain for you, your family and your finances; that's why American Bank is here to help!
COVID-19 and Your Money - 3 Things You Need to Know
So, you heard you're getting a $1,200 check from the government to help you - at least financially - through this pandemic. Hurray!
But wait, how is that going to work exactly!?
1. How to get your economic impact payment.
Now that the Coronavirus Aid, Relief and Economic Security (CARES) Act is law, information - as well as misinformation - is flying around about when, how and who will receive economic impact payments from the IRS and Treasury Department. Here's a rundown of the essentials, straight from the source:
When: Payments will be distributed automatically beginning in April, 2020.
Who: Tax filers with adjusted gross income up to $75,000 for individuals and up to $150,000 for married couples filing joint returns will receive the full payment of $1,200 for individuals or $2,400 for married couples, with an additional $500 per child. If you filed with more income than that, the payment phases out by $5 for each $100 above the cap, up to $99,000 for individuals and $198,000 for joint filers.
How: If you've filed a tax return in the past two years (2018 or 2019), you don't need to do anything. The IRS will direct deposit your payment if you received a refund via direct deposit. If not, the IRS will mail you a check. Need the cash sooner? The Treasury is developing a web portal to allow secure payment via direct deposit. Stay tuned.
If you haven't filed a tax return, you'll need to file a simple 2019 return in order to receive your funds.
2. The scammers are at it again.
Bad actors are always out there to take advantage of a crisis. Use the following tips to help protect yourself and your loved ones from becoming a victim:
What do the IRS, American Bank and the US Treasury all have in common?
None of them will call or email you to get your bank account information in order to mail you a check or direct deposit your funds.
If you do get a call or email, hang up and/or delete it. If you think it might be legitimate, end the conversation and contact American Bank (or the IRS / US Treasury / whoever is claiming to contact you) using the contact information we already have on hand (from bank statements, bills, public website, etc.)
NEVER give out any personal information unless you initiated the conversation.
If you have any questions, contact American Bank directly using the phone number on your bank statement or our public website, not a number given to you by a potential scammer in an email or phone message.
3. Your money is safe in the bank.
If you have scared friends and/or relatives, remind them that the safest place for their cash is in an insured institution (like American Bank) - not under the mattress. Even during "Safer at Home" restrictions, your money will always be available to you. American Bank (as well as Wisconsin's other banks) pay for deposit insurance to keep your cash safe. American Bank also has a robust online and mobile banking system that allows you to access your funds remotely. Additionally, our drive-ups at our Spring Street Office in Beaver Dam and our Necedah Office remain open for you to complete transactions as needed.
The biggest takeaway for consumers during this challenging time: whether you are a small business owner, furloughed worker or worried parent trying to homeschool and pay a mortgage at the same time, American Bank is ready to help you! If you have been adversely affected by COVID-19, please reach out to your banker or loan officer and we can discuss your unique situation and how American Bank may be able to help you.
Your Money is Safe and Sound in a Bank: Here's Why.
An expert courtesy of the American Banker's Association.
At times of uncertainty, one thing you can always count on is the safety of your money at a bank.
When you deposit your money at a bank - like American Bank, you get the comfort of knowing that your funds are secure and insured by the federal government.
You don't have the same level of protection when your money is outside the banking system.
Uncertain times are exactly when you want the certainty and dependability of a bank (like American Bank).
Banks have plans in place to handle a range of emergencies so our customers' funds remain protected and accessible.
Every bank in the country (and American Bank is no different) is required by law to have disaster recovery and business continuity plans in place with multiple backup systems.
The bank's regulator regularly examines the bank to make sure we have detailed, tested disaster recovery procedures and business resumption plans.
The safest place for your money is in the bank; at American Bank, we are FDIC-insured and accessible, thanks to our robust suite of electronic banking options, including online and mobile banking - where you can make mobile deposits and pay bills all from anywhere, anytime.
Banks have a proven record of effective emergency preparedness and disaster recovery.
Throughout US history, banks have been prepared for and responded to recessions, natural disasters (including pandemics) and other business disruptions and emerged stronger while protecting customers' deposits and providing continued access to funds for clients.
Lessons learned from previous disasters and unexpected events have strengthened the banking industry's ability to prepare for and minimize disruption due to the pandemic and continue operating smoothly for customers.